Tatted Lace Butterflies to support Autism Acceptance
Autism statistics from the U.S. Centers for Disease Control and Prevention (CDC) identify around 1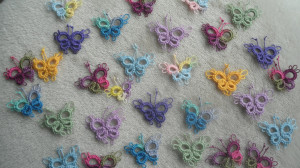 in 88 American children as on the autism spectrum–a ten-fold increase in prevalence in 40 years. Careful research shows that this increase is only partly explained by improved diagnosis and awareness. Studies also show that autism is four to five times more common among boys than girls. An estimated 1 out of 54 boys and 1 in 252 girls are diagnosed with autism in the United States.
Click the Butterflies to order.
A donation toward Autism Acceptance will be made for each Butterfly purchased. Butterflies are about the size of a quarter and will be shipped in assorted colors unless a certain color is specifically asked for in your order.
♥ Thank you for supporting Autism Acceptance ♥