Tatted Lace Healing Angels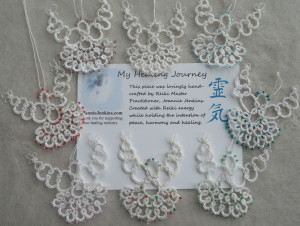 Delicate hand tatted lace Angels were created holding the intention of unconditional healing Love. Approx. 3″ tall. Angels include a thread for hanging on a wall, in a window or in your car.
Healing Angel Ministry
For me, Angels are everywhere.  They guide me in everything that I do.  When I work with Reiki unconditional healing Love, they guide the energy to my client for their highest and greatest good.  When I have needs, I've only to ask them for help, and it's always been answered.  It was all a very personal thing to me.
A few years ago I began tatting little lace Angels.  I was fascinated at the technique and amazed that I could create something so beautiful.  I began taking them wherever I went that I knew I would be waiting.  A lot of my life the past few years was running to doctors/hospitals/surgery waiting rooms.  In almost every place, as I sat quietly tatting my Angels, there was someone who was either drawn to me, or I to them.  My heart told me that for some reason, they needed an Angel.  My Healing Angel Ministry was born.
Each Angel is hand-crafted by me, a Reiki Master Practitioner. Created with Reiki energy while holding the intention of peace, harmony and healing.
Most of my Angels I give to people I am called to, but I also have a place where you can purchase them for yourself or someone in your life who needs to know they are watched over and Loved.  Just click the Order Angels link.  Your purchase makes it possible for me to give them to others who cannot afford them.
If you are unable to purchase an Angel, and know someone in need, send me a message with the person's name and address, and tell me about their need.  I will do my best to send Healing Angels for every request.
Thank you for supporting our Healing Ministry!
Be Blessed, Be Love,
Joannie ♥